12 September '23
Chica V.V. Z jumps to a podium place in Ascona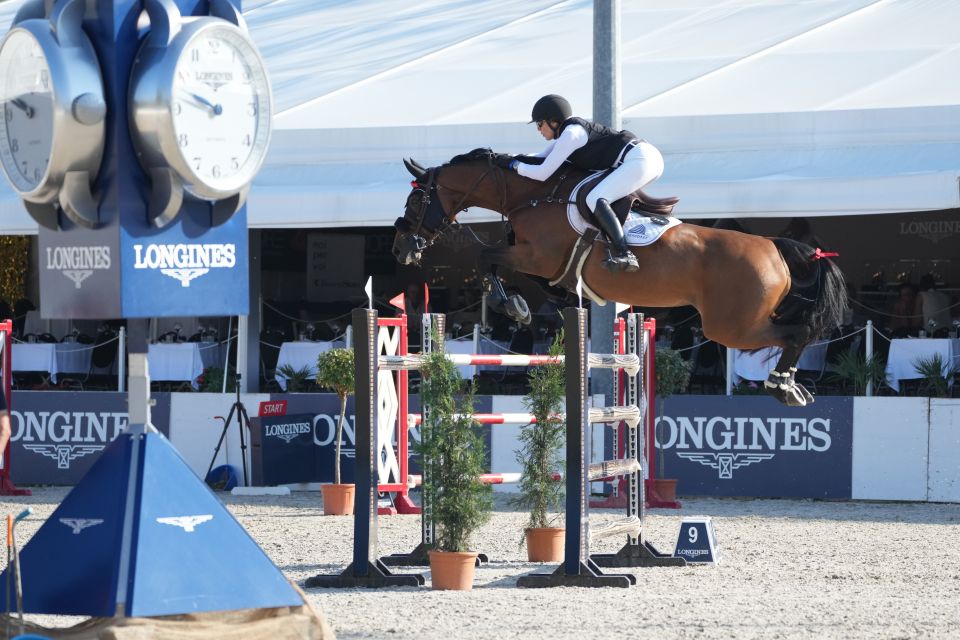 © Sportfot
No five-star show on European soil last weekend, but a four-star show was scheduled in Ascona, Switzerland, in recent days. The final day on Sunday started with a 1.45m high Longines Ranking class in which the Belgian lady rider Gudrun Patteet managed to jump to a podium place with the 8-year-old mare Sea Coast Chica V.V. Z, a daughter of Comme Il Faut and Chacco Blue who bred by Evelyne and Colin Van Vreckom. Patteet and Sea Coast Chica V.V. Z won a class in Kronenberg earlier this summer and were one of the 6 combinations that managed to qualify for the jump-off in Ascona. They again remained clear and this performance earned them a nice 2nd place in the ranking.
Next to the CSI4* competition, there was also some action at two-star level in Ascona and during the CSI2* GP, which also took place on Sunday, there was a top 5 ranking for the American lady rider Vani Khosla with the 12-year-old gelding Cream Couleur Z, a son of Cream On Top and Vanoverbeek who was bred in the Netherlands by Hans Dings. Khosla and Cream Couleur Z were one of the 11 combinations that remained clear in the basic round and so qualified for the jump-off. They once again delivered a flawless performance and secured a 4th place in the ranking.
Another combination that caught our attention was the Monegasque lady rider Anastasia Nielsen with the 12-year-old gelding Echos Son Z, a son of Echo Van 't Spieveld and Nabab de Rêve who was bred by none other than Niels Bruynseels. Nielsen and Echos Son Z jumped into the picture for the first time on Friday with a 3rd place during the 1.35m class and a day later followed a 5th place during another 1.35m class. In both classes they managed to keep all the poles in the cups.
But Nielsen was also placed twice with the 11-year-old grey mare Beau Van De Hagenhorst Z (Big Star Jr K Z x Coronado – B: H.C. Verhagen), who jumped under the saddle of the Dutch rider Johnny Pals until the beginning of this year. During the opening day on Thursday, Niels and Beau Van De Hagenhorst Z started their show with an 8th place during the 1.40m class and on Friday they managed to secure a 4th place during the 1.45m main class.