30 August '23
Integral Zangersheide top 5 in the CSI2* GP of Bonheiden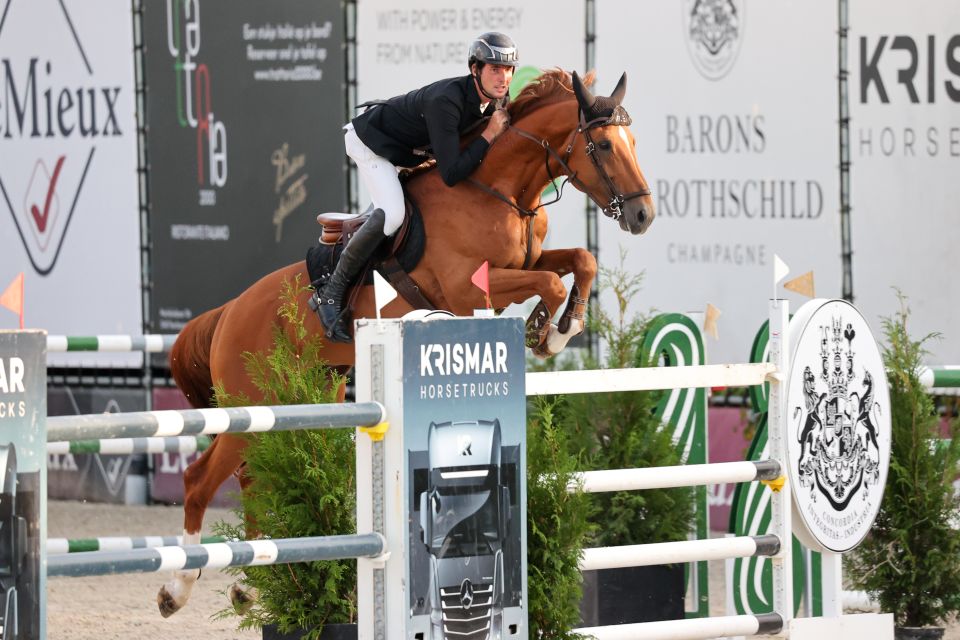 © Andreas Pantel
Next to the 9th edition of the Brussels Stephex Masters in Wolvertem, there was a second international show on Belgian soil last weekend with the two-star show of Jumping Bonheiden! The CSI2* GP, which was already on the program on Saturday evening, was completely dominated by the Zangersheide horses, because the overall top 5 of the ranking was colored blue and yellow!
The victory was reserved for the Belgian rider Anthony Wellens with his 11-year-old chestnut stallion Danger Civil vh Lindenhof Z, a son of Diamant de Semilly and Silvio I who was bred by Jean Pierre Bosch. Wellens and Danger Civil vh Lindenhof Z were one of the 12 combinations that remained clear in the basic round and so qualified for the jump-off. They again managed to keep all the poles in the cups and with a time of 33.19 seconds they were almost 2 full seconds ahead of the competition.
But the other podium places were also occupied by Zangersheide horses, with in 2nd place the Dutch rider Gert Jan Bruggink and his 9-year-old self-bred grey gelding Vigalio Sho Z, a son of Vigo d'Arsouilles and Come ON. Bruggink and Vigalio Sho Z also managed to ensure a clear jump-off, but finished in 35.09 seconds. The Belgian rider Christof Deraedt jumped to a 3rd place with the also 9-year-old mare Dendy Van Jonckhoeve Z, a daughter of Dexter R and Champus who was bred by Stal Jonckhoeve. They crossed the finish line in 36.69 seconds and so completed the Grand Prix podium.
The other combinations that managed to reach the top 5 here were the Belgian rider Luiz Felipe Neto de Azevedo with the 12-year-old grey gelding Clinto T Z (Clintissimo Z x Indoctro – B: Rudi Tans) and the Dutch rider Leopold van Asten with the 12- year-old gelding VDL Groep Elegant Hero Z (Echo van 't Spieveld x Diamant de Semilly – B: Luc Henry).
Next to his 2nd place in the CSI2* GP with Vigalio Sho Z, Gert Jan Bruggink also managed to jump into the picture with his 11-year-old stallion That's Mie Z, a son of Topaas E and Numero Uno. Bruggink and That's Mie Z started their showw with a 2nd place during the 1.40m class on Thursday and a day later followed a 5th place during another 1.40m class.
During that 1.40m class on Friday, 2nd place was reserved for the Brazilian rider Bernardo Alves and the 11-year-old chestnut mare Vigo's Flip de Muze Z (Vigo d'Arsouilles x Robin I Z – B: Joris De Brabander), with whom he won a class earlier this month in Lier. Alves and Vigo's Flip de Muze Z finished in the 2nd phase in 33.76 seconds, which put them 5 hundredths of a second short of the victory.
Finally, during the final day on Sunday, the main class of the day was a 1.45m high Longines Ranking class in which the Brazilian rider Luiz Felipe Cortizo Gonçalves De Azevedo Filho managed to claim a top 10 ranking with the 8-year-old gelding Click Clack Vdc Z, a son of our chestnut stallion Comilfo Plus Z and Indian Gold Van Castershoeve who was bred by Joke Mardaga. The Azevedo Filho and Click Clack Vdc Z kept it clear in both the 1st and the 2nd phase and this performance was good for 7th place in the ranking.