28 septembre '23
Clockwise of Greenhill Z wins the CSI3* GP of Vancouver-Langley!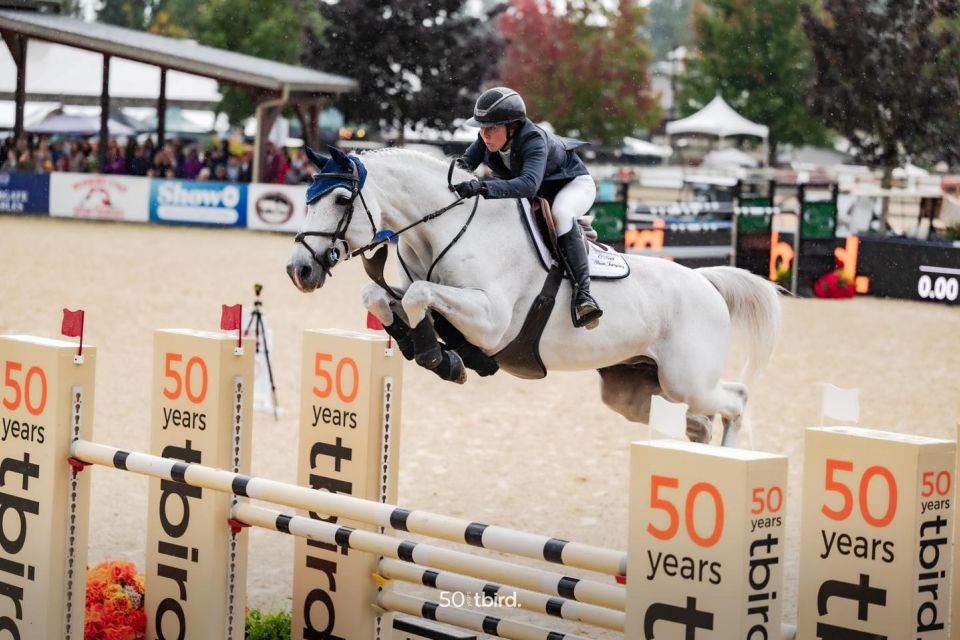 © Thunderbird Show Park - Kadydane Photography
Last weekend, the most of the attention got of course to the FEI WBFSH Jumping World Breeding Championship for Young Horses, but next to that there were also many other international shows on the program. For example, a three-star show took place in the Thunderbird Show Park of Vancouver-Langley, Canada, and the CSI3* GP on Saturday was won in by a Zangersheide horse on a spectacular way!
It was the New Zealand lady rider Uma O'Neill who jumped to the victory with the 16-year-old grey stallion Clockwise of Greenhill Z, a son of Clearway and Cartino who was bred by Philipp Gysbrechts and who is also approved for Studbook Zangersheide. O'Neill and Clockwise of Greenhill Z started their first round excellently, but 2 obstacles ahead of the end of the course, a clear round suddenly turned out to be unlikely for the duo... Heading toward the penultimate vertical, Clockwise's bridle slipped over his ears. The tack fell beneath his nose, but the stallion held onto his bit. Instead of trying to pull up, O'Neill determinedly continued on, managing to steer right to the final oxer. The pair cleared the fence and returned without issue to the ingate, where the stallion was safely stopped, and his bridle was repositioned.
O'Neill and Clockwise of Greenhill Z were one of the 5 combinations that managed to qualify for the jump-off and they outclassed the competition with a clear round in 41.11 seconds.
Uma O'Neill: "It was very wet from the rain, and as I kept going around the course, I noticed that there was more and more bonnet sticking up above his ears. Over the B element of the triple combination I got a little concerned, and cantering to the Odlum Brown oxer, I thought the bonnet might be covering his eyes, and I wasn't quite sure where his vision was, but he still felt amazing. I landed off the next jump, and the bridle went over his ears/ He started to back off, but I kept my leg on, and he felt confident, so I decided to keep going. There was only one jump left, and he felt great."
"I have so much confidence in him. I know he knows the job, and it's just about keeping him fresh, happy and loose in his body. He's ready to go. He had a little bit of a lighter spring and summer this year. He came back feeling really fresh. He spent most of that time swimming at Premier Equine Center in Oakdale, CA. It's been super beneficial at his age, just keeping his fitness up with less concussion on his joints."