23 septembre '23
Scuderia 1918 Tobago Z tops the Z-ranking 2022-2023
Studbook
/
FEI WBFSH Jumping World Breeding Championship for Young Horses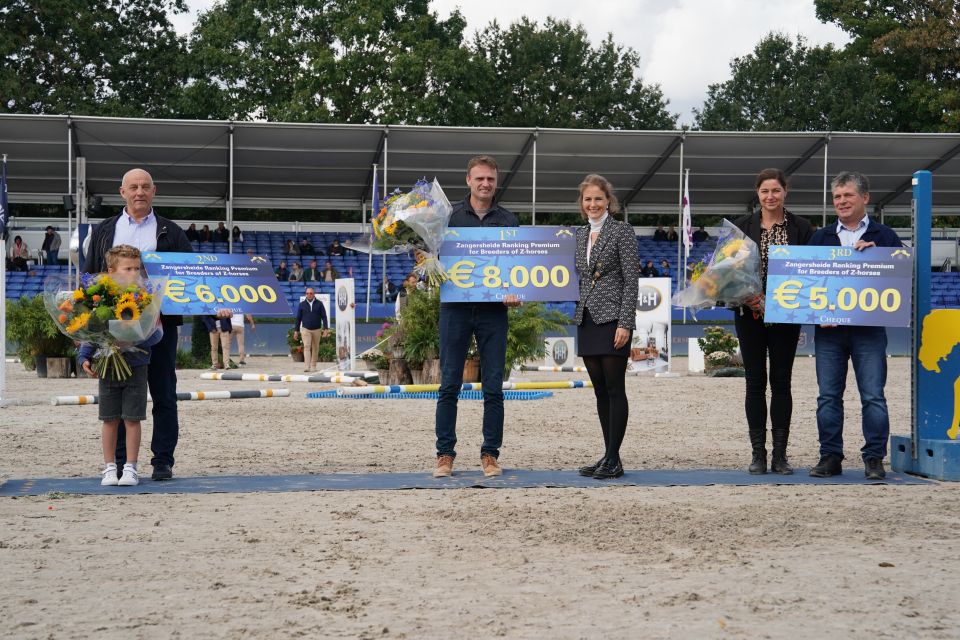 ©Sportfot
Every year, the breeders of the top three of the Z-Ranking are festively put in the limelight during the 'FEI WBFSH Jumping World Breeding Championship for Young Horses'.
For several years now, Zangersheide has kept a ranking of horses registered at birth with Studbook Zangersheide that are now performing in the international sport. The breeders of horses that earn the most prize money over the past year are allotted a total sum of 30,000 euros.

Tobago Z
The title of the best Zangersheide horse of the past year goes to Tobago Z (by Tangelo vd Zuuthoeve x Mr. Blue). The 15-year-old chestnut bred by Jonas Bellemans has been succesful under Daniel Deusser's saddle for years. In 2021 and 2022, AES, Holstein, Oldenburg and Zangersheide approved stallion finished as the third best-earning Z horse. This year, Tobago Z is at the top thanks to his victory in the CSI5*Grand Prix of New York and a month later in the CSI5* GP of Prague. Other top rankings in the Global Champions Tour and CHI Geneva also add to the total. With also top ten placings in World Cup competitions in Mechelen, Amsterdam and Bordeaux, and a third place in the first final class of the World Cup in Omaha, Tobago's breeder received a premium of 8,000 euros.

Landon
Bred by Danny Nijs, Landon (born Crack de Nyze Z), by Comfilo Plus Z x Quadrillo) has been jumping from strenght to strenght for two years with Kent Farrington. The pair earned top dollars on the other side of the ocean with top placings in the CSI5* Grand Prix of Greenwich (6th), and in the World Cup competition in Upper Marlboro and Toronto. At the Winter Equestrian Festival in Florida, the 10-year-old Landon also did well with a first prize in the CSI3* GP, and finished third in the CSI5* Grand Prix a week later, in addition to several top rankings in other classes. In San Miguel de Allende, the pair won two CSIO5* 1.60m classes. And in Calgary last year and this year, the pair also jumped together a lot of money. Both in the Nations Cup and in several ranking classes in Calgary, they almost invariably classified in the top ten.

Beauville Z N.O.P.
Last year, Beauville Z topped this list. Now the gelding, bred by Pascal Habets, is good for the third place. The now thirteen-year-old Beauville Z, has signed up for a string of highlights for the Netherlands under Maikel van der Vleuten for years on end. The orange pair was earned good money thanks to wins in the CSI5* Grand Prix of Cannes and third place in the Miami GP. In the Grand Prix of Mexcio, the pair finished sixth and the Grand Prix of Monte Carlo and La Coruna they finished ninth. Adding several top placings in the GCT/GCL and different Nations Cups, they complete the Z-ranking top three.