17 February '23
Boy Peels and Kiss and Jump TAG are the winners of the 5 and 6 year old stallions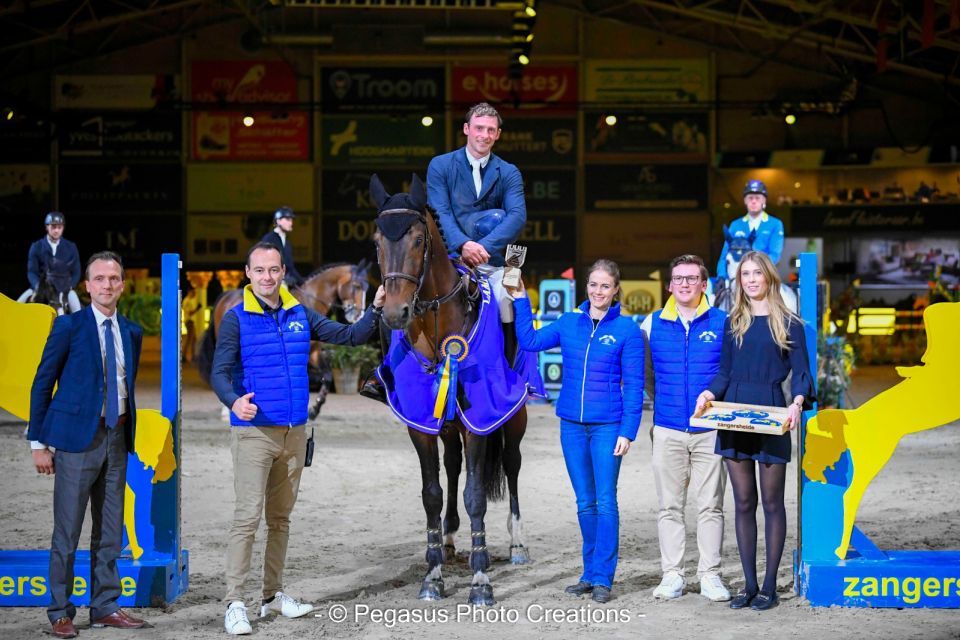 PEGASUS PHOTO CREATIONS
After the international classes, it was this afternoon the turn of the young stallions to make their appearance at The Zangersheide International. At 3.45 pm it were the 5 and 6 year old stallions who were the first to start and they immediately made a lot of impression. Of the 41 combinations that appeared at the start, no less than 28 managed to stay clear in the basic round and so qualified for the jump-off.
We therefore had an exciting jump-off with the Dutch rider Boy Peels and the 6-year-old KWPN-bred stallion Kiss and Jump TAG as final laureate. Kiss and Jump Tag was bred by Evert van Gorp and combines the blood of Kannan with that of Van Gogh. Peel and Kiss and Jump TAG finished in 27.67 seconds and with that they were more than a full second ahead of the competition.
His compatriot Lars Kuster followed in 2nd place with the Zangersheide-bred stallion Don Darpania Z, a 6-year-old son of Dominator 2000 Z and Glasgow van 't Merelsnest who was bred by A.P.G. the long. They also managed to ensure a clear jump-off and crossed the finish line in 28.71 seconds.
The 3rd place was also colored blue and yellow and that was ensured by the Belgian rider Thomas Mertens with the 5-year-old stallion Chadli de Bo Z, a son of Cicero Z and Ustinov who was bred by Philippe Bormans. They finished in 29.30 seconds and so completed the podium.
The Belgian rider Gilles van Hamme with the 5-year-old stallion Extreme 111 Z (El Barone 111 Z x Bamako de Muze – B: Stud 111) and Christian Ahlmann with our 6-year-old stallion Ansingh de Lis Z (Aganix du Seigneur Z x Landsieger – F: Lisman w.m.) followed in 4th and 5th place.