15 February '23
Double victory for Cyramo Z in Welington!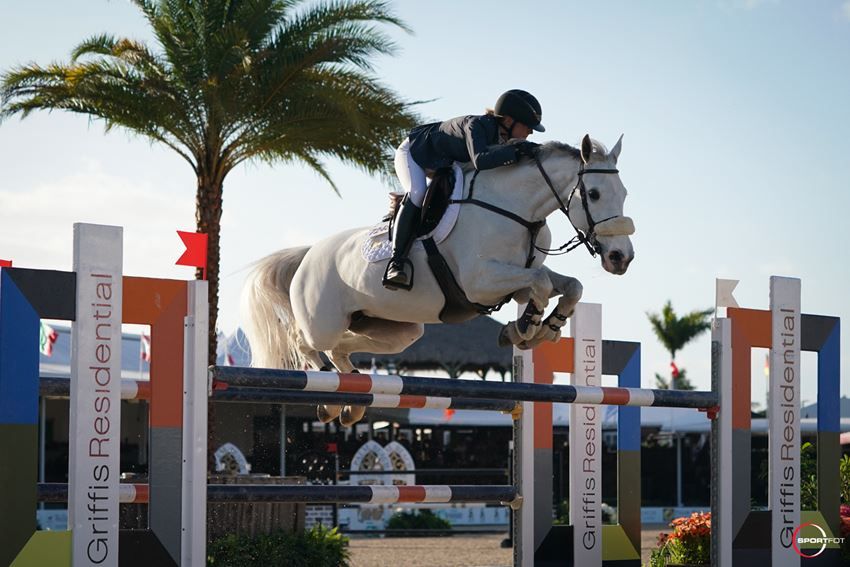 SPORTFOT
Next to the CSI5* competition, last weekend there was of course also international action at two star level during the Winter Equestrian Festival in Wellington International. The most striking combination here was undoubtedly the American lady rider Jacqueline Ruyle with her 12-year-old grey mare Cyramo Z, a daughter of Clarimo ASK and Vigo d'Arsouilles who was bred in the Netherlands by the brothers van Helmond and with whom Ruyle already won a class the week before. This week, however, Ruyle and Cyramo Z did even better, because in next to her victory during the GP Qualifier on Friday, they also won the CSI2* GP on Sunday. In a jump-off for which 15 combinations were able to qualify, they finished in a convincing time of 34.93 seconds, giving them a full 2 ​​seconds lead over the competition!
Jacqueline Ruyle: ""She is by far the smallest, hottest, fastest horse I have. I bought her as a seven year old and she was competing in the 1.20m classes and we thought she would be an awesome Medium Amateur horse. I was a slow rider competing in the medium amateurs when I got her and she taught me how to go fast. She has jumped everything we've put in front of her and is always incredibly brave. She's honestly my favorite ride of the horses I have."
But also the 2nd place during this CSI2* GP turned blue and yellow and that was ensured by her compatriot Mimi Gochman with the 10-year-old grey stallion Cosmos BH, a son of Chellano Alpha Z and Artos Z who was born at our Studfarm as Cosmos Z. Also Gochman and Cosmos BH managed to keep it clear again in the jump-off, but it took them much longer to complete their round in 36.94 seconds. And also for them this was already the 2nd time they were placed during this weekend, because during the GP Qualifier on Friday they jumped already to a 9th place.
Furthermore there was also a 7th place in the CSI2* GP for the American lady rider Catherine Tyree with the 11-year-old chestnut mare Camilla Z (Cliff 67 x Sandro Boy Junior – B: G.S. Groenveld). She also kept all poles in the cups in both the basic round and the jump-off.
Next to Jacqueline Ruyle with Cyramo Z and Mimi Gochman with Cosmos BH, we saw also two other Z horses in the top 10 of the rankings during the GP Qualifier on Friday. For example, the 5th place was for American lady rider Heather Caristo Williams with the 11-year-old stallion Celtic Hero B Z (Calikot Hero x Caretano Z – B: Sportpferde AG Etter, Andrea Etter) and the 6th place for the Brazilian rider Fabio Leivas Da Costa with the 9-year-old gelding Amigo W Z (Andiamo Z x Contendro I – B: W. van Gestel). They also managed to keep it clear twice.
Finally, during the 1.45m class on Thursday, there was a podium place for the American lady rider Victoria Heurtematte with the 13-year-old mare Scarlett du Sart Z (Stakkato x First Bride – F: Carole Fontaine). In a class against the clock they remained clear and this performance was good for a 2nd place in the ranking.